Kawaii Club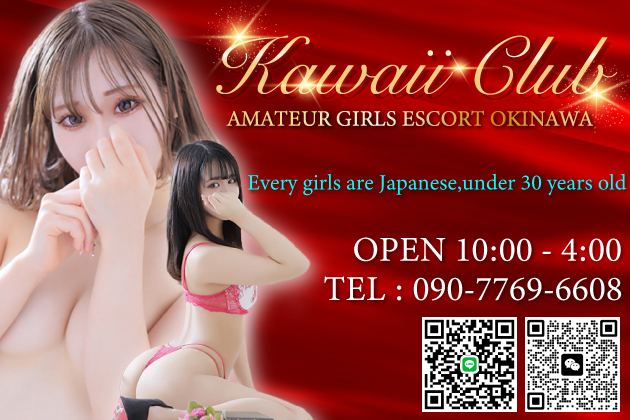 INFORMATION
KAWAII CLUB is the best escort provider for foreigners here in Okinawa!
All ladies are Japanese under 30 years old and have passed a strict screening process for appearance and personality.
Enjoy the most exciting and erotic experience with our amateur Japanese ladies… they are waiting for you!
And remember, your satisfaction is always guaranteed.
Welcome to Okinawa, Japan!
Thank you very much for taking a look at our site.
There are more than 20,000 "adult entertainment" providers in Japan.
However, most providers are not allowed to offer their services to foreign clients.
The reason they do not offer their services is due to language barriers.
It is also to avoid uproar due to cultural misunderstandings.
We, "KAWAII CLUB", are a high-class escort service and sexual massage parlor for foreigners.
Our operators speak English and understand cultural differences well.
We deliver attractive and KAWAII girls to you.
All ladies are under 30 years old and Japanese.
We are proud of our kawaii ladies.
Our store is licensed by the government, so we promise you a safe and secure service.
Please take this opportunity to enjoy the best "hospitality" of our kawaii ladies.
Our store is an escort (agency) for foreigners.
Attractive ladies from Okinawa will come to you. Please contact us if you want to spend a rich time with a beautiful lady as if you were spending it with your lover!
We are an escort service (nightlife store) specialized in foreigners.
Attractive Japanese Okinawan women will visit you. Please feel free to contact us if you want to spend a highly intimate time with a wonderful lady as if you were spending it with your lover!
Price Guide
Nomination Fee 2,000 yen
Additional Fee 2,000 yen
Cancellation Fee 3,000 yen
Change Fee Free
King Course
60 min: 20,000 yen
90 min: 29,000 yen
120 min: 35,000 yen
150 min: 43,000 yen
180 min: 50,000 yen
240 min: 55,000 yen
Extension: 30 min., 15,000 yen
King Course
It is OK even if there is no prohibited act such as ejaculation inside.
All included:
・Body wash
・Full nudity
・Kissing and French kissing
・Caress
・Blowjob
・Intercrural sex, bare thighs
Transportation Fee
Naha, Urasoe, Ginowan, Tomishiro 1,000 yen
Nishihara, Yonabaru, Itoman,haebaru 2,000yen
Chatan, Okinawa, Kadena, 3,000yen
Uruma, Yomitan. 4,000 yen
Other areas: to be confirmed
Prohibited
Sexual intercourse is prohibited.
We do not provide services to unclean customers.
The use of drugs of any kind is prohibited by Japanese law.
No sexual intercourse with women is allowed.
No secret filming or recording of any kind is allowed.
Violence of any kind is prohibited.
Any act that is not authorized by the ladies is prohibited.
Any act that violates the laws and regulations of Japan is prohibited.